The Fifty
Zion introduced The Fifty in 1996 and it has become a favorite for many of our players.  The refined styling and contoured body (complete with 'tummy cut' and shoulder contour) makes this guitar comfortable to play even in extended gigs.
Your choice of woods, pickups, hardware, and finish complete your Fifty.  An extremely versatile instrument that is very comfortable with 2 Humbuckers and tremolo or a set of vintage t-style pickups and t-style bridge.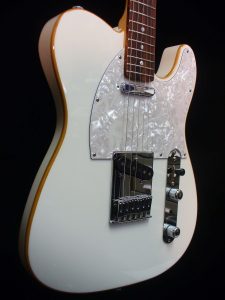 Once you plug in and start playin', you won't be able to stop…
The Fifty
Standard Offerings
Zion design single-cutaway, solid-body in your choice of body woods.
The Fifty is available with traditional pickguard-mounted or elegant rear-routed electronics mounting.
Body Wood:
Swamp Ash, Alder, Mahogany
Neck:
Traditional Headstock; Maple with Rosewood Fingerboard; 22 Fret; 12″ Radius; 25 1/2″ Scale
Sperzel Locking Tuning Keys
Hardware:
Bridge:
Zion Fixed Bridge
Wilkinson VS-100 Tremolo
6 Saddle T-Style Bridge
Pickups:
HH, SSS, SSH, SS (T-Style)
DiMarzio or Seymour Duncan
Wiring:
5-Way, 4-Way, or 3-Way Blade Switch
Master Volume & Tone
Finish:
Olympic White
Mary Kay White
Black
Natural (Clear Finish)
Trans Amber
Honey Burst
Tobacco Burst
Two-Tone Burst
Root Beer Burst
Cherry Burst
Emerald (Trans Green)
Emerald Burst
Royal Mist (Trans Blue)
Royal Mist Burst
Moby (Trans Purple)
Moby Burst
Crimson (Trans Wine Red)
Crimson Burst
Turquois Shoal
Turquoise Shoal Burst
Gold Top
Red Frosted Marble
Green Frosted Marble
Blue Frosted Marble
Case:
Available Options
Neck:
Tilt Back Headstock with Matching Woods and Finish
Maple with Ebony Fingerboard
Maple with Maple Fingerboard
Maple with Birdseye Maple Fingerboard
Maple with Flame (Curly) Maple Fingerboard
Maple with Quilted Maple Fingerboard
Zion Dove Inlay
Zion Crescent Moon Inlay
Buzz Feiten Tuning System
Pickups:
Lindy Fralin
EMG
Joe Barden Engineering
Seymour Duncan Custom Shop
Other premium pickups
Piezo / Synth:
Piezo Saddles & Onboard Preamp
Wiring:
Push/Pull Switch for Series/Parallel or Coil Tap on Humbucker
Mini-Toggle Switches for Custom Switching options
Hardware:
Finish:
Metalflake and Custom Graphics
Custom Colors & Color Matching
Case:
Custom Form-Fit Hardshell Case
The Fifty
"I own 3 (similar guitars) and have played dozens in my search for the "one." This guitar is light and very resonant… it rings like and acoustic when strummed… Comparing this to a production line (Brand Name) is not fair, the pickups are better, the finish is better, the wood is better and the neck is MUCH MUCH MUCH MUCH better…
The finish is so flawless, its scary. The neck fits very tight, and the neck finish is silky smooth. The 3 way switch is tight and the pots are very smooth. The fret work on the neck is as good as I have ever seen. I would put this up against … anyone. I am a picky guitar-aholic, and this one was made "Right."
Sam – Harmony Central Review